As we prepared for our July workshop on Adult Faith Formation, we included three timeslots to present different approaches to Scripture meditation and study designed to engage "inquirers"—people who may have little knowledge of the Christian faith and content of the Bible but who, through the work of the Holy Spirit, have expressed an interest in exploring Christianity and learning about Jesus. Kent sent me the instructions for one such model called the "Visualization Scripture Study," and when I read through it, my first reaction was, "I would get up and leave the room if I were asked to do this in a small group." While firmly doubting the value of this method, I dutifully proofread the document and made sure that Kent would lead this section of the workshop.
All the Scripture meditations we practiced with the group start in a similar manner: the Gospel reading for the previous Sunday is read aloud, silence is kept for a time, and members of the small group share with one another a word, phrase, or image that caught their attention. The text is read a second time with a different prompt. Then, the instructions for the visualization method continue, "Each team collaborates creatively to visualize the story in some way." Examples given include acting out the story, drawing the story, writing a song or "a poem or haiku (or even a limerick)."
The appointed Gospel reading was John 3, Nicodemus coming to Jesus by night and questioning how one could be "born again." After the reading, silence, and sharing, the teams were giving the above instructions. At first, there were tentative, quiet conversations, but soon each group worked earnestly, and some with joy and laughter. This doubting Thomas's resistance to the process began to break down, and I was completely transformed to the possibilities of this method when the teams presented their work—full of fun and deep theological insights into the text.
There were two "dramas" of the story, both starring "Nick and Josh," with one drama set on a fishing boat in a Minnesota lake. I wish I had recorded it to share here! I did capture photos of the poems, which include a haiku and limerick, shared here. Note the way each one captures the essence of the story and the saving work of Jesus.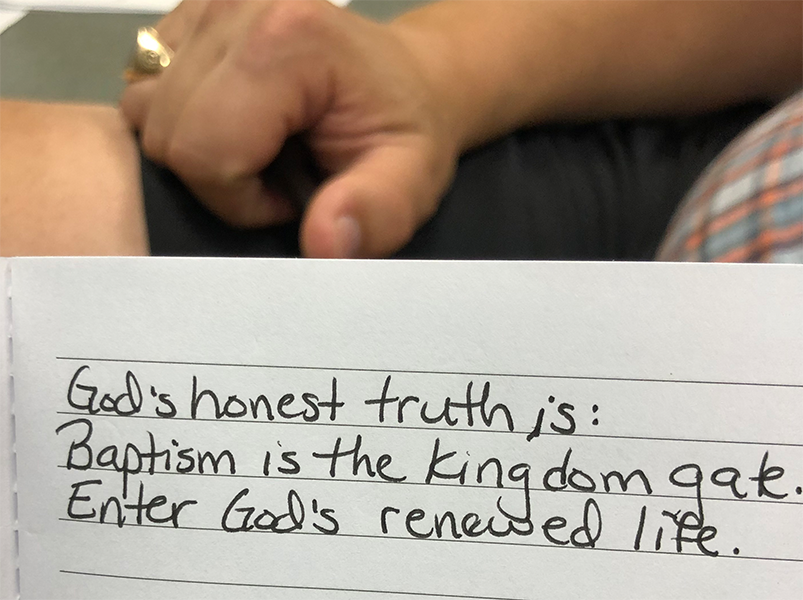 As we debriefed the process, Anna, trained as an educator, pointed out that this activity taps into multiple learning styles, including the creative process, which is at the top of Bloom's (revised) taxonomy of educational goals. Click here for more information.
Tom, one of the pastors, described his reaction to the activity. First, he said, he experienced "resistance," but then moved to "engagement and then acceptance." His experience, he said, "could be the journey of a catechumen." Or, I would add, of this Doubting Thomas.
Photo attribution:
Português: Cathedral of Monreale, © José Luiz Bernardes Ribeiro / CC BY-SA 4.0